Darrin Victorino - Acoma Pueblo Pottery
Acoma Pueblo Potter

Darin Victorino

moves traditional Acoma designs into
modern, incredable fine lines

Darin Victorino and his family are among 13 families
living a traditonal Acoma life on the Mesa.

Acoma families living on the mesa reside in pueblos,
some dating back to 1100 AD.

Life on the mesa is conducted without running water,
there is no indoor plumbing, and the only
electricity is from a generator (if you have one).
There is both an old Spanish mission on the mesa
and a Kiva (hidden among the pueblo homes).
It is from here that Darin creates his magic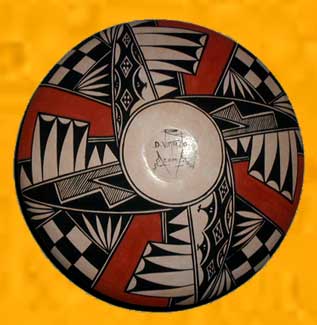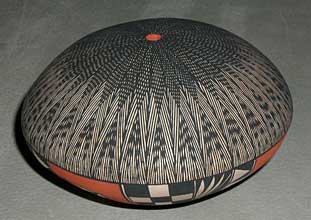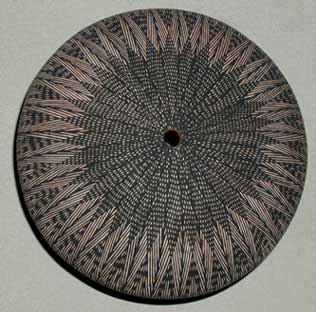 <5 1/2" across (diameter)

$495
<><><>
Sometimes seen in Darin's pottery are
flashes of silver in the clay.
It is mica mixed with the clay.
Before glass was used in Acoma pueblo windows,
mica was used.
It is said that the Spanish Conquistadores
originally thought Acoma was filled with silver and gold
from the suns reflection off the mica windows>
and straw in the adobe.